[RMP 8.3.1]
Is it possible to try to start the EtherCAT network too often or too soon after a recent failure to start?
The Problem
I'm trying to make my application respond gracefully to situations where the EtherCAT network disappears (e.g. turning off power to the drives). In this scenario, I unplug the ethernet cable from node 0, wait a while, and plug it back in.
Currently, my app tries to start, it fails, it tries again pretty soon (maybe 100ms later), and repeats, hoping that sooner or later it will work. I have observed that at some point in this impatient, relentless attempt to get everything working again, that the RTA seems to get into a state where it kind of stops working correctly (without raising any sort of exception that INtime would complain about).
This happens somewhere around attempt #10. All attempts thereafter fail (in my app) or stall (in RapidSetup).
It just gets stuck in discovery/starting and never gets out of it.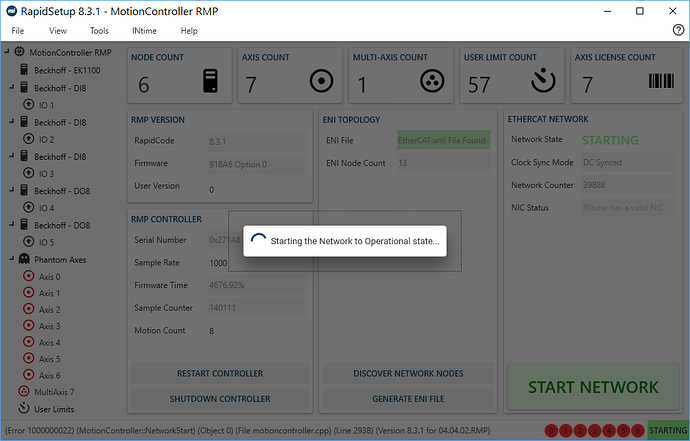 Note: the firmware time seems a little large. Perhaps I shouldn't expect something meaningful during this phase, but expected to. Also, the sample counter is incrementing much slower than normal: ~ 0.5 - 1.0 seconds per tick.
I have to restart the RTA to get out of this state.
The Question
Is it possible to try too frequently to start the network? I'm pretty sure that I'm not making multiple concurrent attempts to start, but I am trying to start pretty soon after the last failure.
Is there a practical limit for this? Should I not attempt to restart for a certain amount of time?